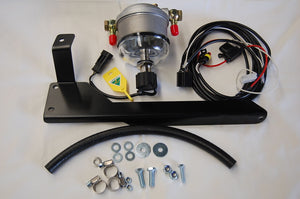 WHAT IS WATER WATCH
Modern diesel fuel systems have become more precise, they operate with higher pressures and supply a very accurate delivery of fuel, this enables better performance, improved fuel economy and reduced emissions.

Water is one of the main causes of damage to fuel system components. It can cause parts to seize due to poor lubrication; it will also produce rust and corrosion to internal metal areas which in turn causes pump and injector damage. This problem is even more relevant to late model electronic and common rail vehicles.u200b

The Water Watch trap assembly will assist in detecting and removing water in the vehicles fuel supply prior to it entering the fuel system. It is capable of detecting very small amounts of free water, bringing on a LED warning light and audible warning. Water Watch will also collect debris and particulates in the glass bowl along with any water that has come from your fuel supply.u200b

Water Watch is not a filter, so it does not cause any restriction to fuel pressure or flow. Filters are designed to capture particles. If the fuel can pass through a filter, so can water when under the pressures found in Common Rail Diesels.u200b

Water Watch does not replace your vehicles genuine filter assembly, and is fitted prior to the factory fitted filter unit to provide a warning should any water come from your fuel tank, before it enters the vehicle fuel system.u200b

"Water Watch" models can be fitted to marine, industrial and automotive applications, up to approximately 18 Litre capacity.u200b

Water Watch can be optioned with the added protection of shut down or back to base warning capability.

Talk to the Responsive Engineering specialists about your application and they will be able to calculate which model will be suitable for you.u200b

If you would like your unit professionally fitted there are a growing number of Water Watch distributors who can attend to your needs - see our list on our web site to locate someone convenient for you.
KIT INCLUDES
1 x WW20072 10mm Fittings
1 x GUNBK Bracket Kit