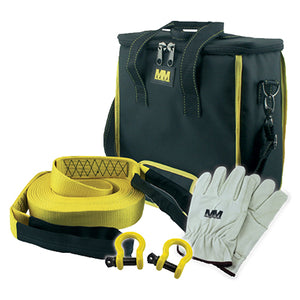 Description
Having a fully stocked and properly maintained recovery kit is an essential accessory for any 4WD enthusiast. It is very important to have quick and easy accessibility to all your recovery equipment. Each Mean Mother recovery kit has been carefully tailored to include the correct equipment for most recovery situations. Ideally suited to the 4WD adventurist who may or may not have an winch fitted to their vehicle. The 5 piece kit requires the assistance of another vehicle to complete a snatching recovery.
Kit Includes
1 x Australian Made 8000kg snatch strap
2 x 3.5 tonne bow shackles
1 x Pair of recovery gloves
1 x Heavy duty storage bag
All Mean Mother snatch straps are made here in Australia and tested to meet the highest quality and strength standards. They are manufactured from 100% treated nylon webbing with reinforced eyelets to prolong operational life. Similar to a rubber band, a snatch strap being stretched between two vehicles generates a kinetic energy pulling force as the strap returns to its original length. The combination of the recovery vehicle pull and the pulling force from the strap creates a "snatching" effect that can heave a stranded vehicle free from being bogged or unable to move under its own power.
Australian made, high tenacity nylon webbing.
Kooper reinforced eyes
Thermo fixed and treated for longer wear
High elongation of 20%.