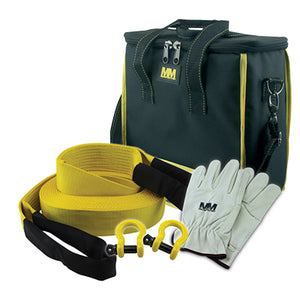 Description
Our 11,000kg five piece recovery kit has been developed for those who demand more from their 4WD experience. Based on the popular five piece standard recovery kit, the premium kit upgrades to an Australian made 11 tonne snatch strap and two 5 tonne heavy duty bow shackles, as well as the new look recovery bag to store it all in.
Having a fully stocked and properly maintained recovery kit is an essential accessory for any 4WD enthusiast. It is very important to have quick and easy accessibility to all your recovery equipment. Each Mean Mother recovery kit has been carefully tailored to include the correct equipment for most recovery situations. Ideally suited to the 4WD adventurist who may or may not have a winch fitted to their vehicle. The 5 piece kit requires the assistance of another vehicle to complete a snatching recovery.
Kit Includes
1 x Australian Made 11000kg snatch strap.
2 x 5 tonne bow shackles.
1 x Pair of leather recovery gloves.
1 x Heavy duty storage bag.