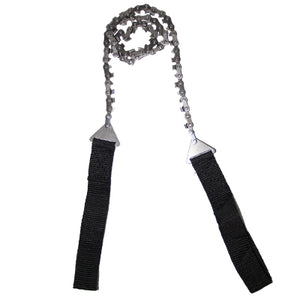 Description
This is a versatile piece of equipment ideal for any camping or recovery kit, and perfectly suited to any outdoor enthusiast needing a compact, lightweight, wood cutting solution.
Perfect for clearing a path by removing low hanging branches, cutting up wood for a campfire, or clearing a wooden obstacle that is across a track – This is a must have inclusion for any travel kit.
Features a cutting blade at every drive link.
Carbon steel chain saw blades.
Durable polyester webbing handles.
Storage pouch.