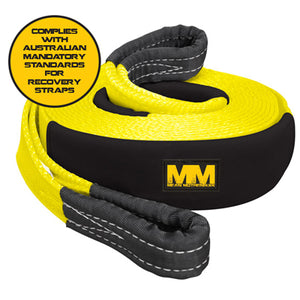 All Mean Mother snatch straps are tested to meet the highest quality and strength standards. They are manufactured from 100% treated nylon webbing with reinforced eyelets to prolong operational life. Similar to a rubber band, a snatch strap being stretched between two vehicles generates a kinetic energy pulling force as the strap returns to its original length. The combination of the recovery vehicle pull and the pulling force from the strap creates a "snatching" effect that can heave a stranded vehicle free from being bogged or unable to move under its own power.
High tenacity nylon webbing.
Reinforced eyelets.
Thermo fixed and treated for longer wear.
High elongation of 20%.
When using a snatch strap carefully follow the safety guidelines set out in the instruction sheet included with each kit.