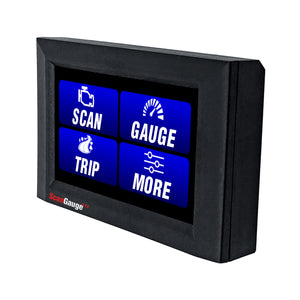 Introducing ScanGauge-3
All The Features You've Been Asking For
ScanGaugeIII can help you monitor your vehicle's most vital systems and provide the kind of real-time information you've been missing. Features include built-in digital gauges, 5 sets of trip data and an easy-to-use Scan Tool that shows both set and pending trouble codes — all in an ultra compact design that installs in minutes.
The new ScanGauge-III features capacitive touch screen with over 16 million possible colours, audible and visual alarms, automatic X-Gauge configuration and configurable gauges display for up to 9 gauges on each screen saved to your preference. 
 
OBD2 DIGITAL GAUGES
ScanGaugeIII provides real-time gauges to show you what is going on "under the hood" with built-in digital gauges. The gauge screen allows you to select and display up to 9 gauges at a time, so you can monitor the current operating conditions of your vehicle in real-time. Customise the number of gauges and pages to your preference. 
Learn To Improve Your Fuel Economy With Scangauge-II
ScanGauge-III provides real-time data about your vehicle's instant and average fuel economy, fuel used, cost of fuel used for each trip, cost per KM, Litres per hour and more!
There are many ways to reduce your fuel usage and increase fuel economy. Real time feedback like what the ScanGauge provides is one of the most effective.
Driving More Efficiently With ScanGauge Can Save Up to 33%
Removing Excess Weight and Drag can save up to 17%
Simply Observing the Speed Limit can save up to 14%
Avoiding Excessive Idling can save up to 2%
*The information available may vary depending on vehicle's make and model. If the information is not available no data will be shown for it. If the same gauge is selected for more than one position, only one of them will show data.